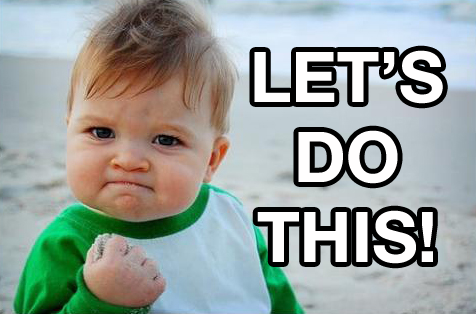 In the last article I spoke about awareness and the practice of being mindful.  In today's post,  we will discuss how to utilize that practice in more depth to start to facilitate change.
A Tale of Two Selves
What if I told you that I would pay for the vacation of your dreams, would you take it?  I am sure that most of you would say, "yes!"  Okay, what if I told you that I would pay for it, contingent on the condition that you couldn't take any photos, and upon your return, you would have to take a drug that erases the entire experience from your memory. Effectively, you would be erasing any evidence that the vacation took place.  Would you take it then, or would you rather pay for your own vacation?  I think that most of us would rather just pay for our own vacation and keep the memories.
This is a scenario that author, researcher, and psychologist, Daniel Kahneman, poses to an audience during a TED talk to express the concept that we are of "two selves"–our experiencing self and our remembering self.  Think of our experiencing self as the part of us that says "ouch" when we are stung by a bee or pricked by a thorn–this side of us is THERE from moment to moment. The remembering self is the part of us that interprets (how we feel, connect, remember, etc.) our experience, and therefore, largely dictates our satisfaction with our lives.  Given the scenario mentioned above, we shun the idea of a vacation without being able to remember it because it is the interpretation of our experiences that equate to emotion and feelings of satisfaction.
I make this distinction early on because moving forward, we will be addressing the part of you that is interpreting your experience.  
Hi Marc! My Name is Marc
Language is how we relate to our world and communicate our experience.  The meaning of words inherent in a specific language, used in accordance with structure and context, has a significant impact on how we talk, and in turn, on the way we think.  If fact, one study suggest that having the ability to speak more than one language can change the way you think based on which language you choose to "think" in. This has far reaching effects when considering how to change an aspect of our lives, because a belief is nothing more than a thought that we choose to endorse with emotional backing–and beliefs dictate our actions.  So, if we jump on the "deductive reasoning train":
change the way you talk to change the way you think;
change the way you think to change your beliefs
change your beliefs to change your actions.
Now, I'm not asking you to learn a whole new language in order to change, but I am asking that you recognize the connection between how you conversate with yourself and the effect it has on your life experience and emotions.
What You "See" is What You Get
The average width of a doorway is a approximately 3 feet give or a take a few inches.  I am a fairly sizeable 220 pound male, that takes part in strength training, so that leaves me with a shoulder width of under 2 feet.  Needless to say, I wouldn't have to adjust the way I walk to get through a doorway. I certainly wouldn't have to turn my body sideways to get into my house, but that's just me.  But in a study where female participants suffered from anorexia, this was not the case.
In the study out of the Netherlands, a group of researchers sought to discover if the way participants (suffering from anorexia) PERCEIVED themselves, would have a direct effect on the way they behaved unconsciously.
They gathered 19 participants and had them walk through doorways with varying width.  What they observed was that participants started to turn their bodies in doorways that were 40 percent WIDER than their respective shoulders.  The participants thought of themselves as being much larger than they really were; therefore, they felt as if they needed to "squeeze" through doorways when there was plenty of available room.
This study gives us some insight into how the way we choose to identify ourselves has a direct impact on the way we behave.  It may seem commonsensical, but we rarely acknowledge the effects of such a phenomenon. For example when I say that, "I don't do well on roller coasters," there is a very small probability that I will be enthusiastic about going to your favorite theme park.
Where Does this Leave Us?
"If you fight hard enough for your limitations, you get to keep them."
In the beginning of any effort to make any change, it is important to recognize that you may be thinking in way that is limiting your progress.  But in order to spot a self limiting belief, we first need KNOW that we are holding the "spotlight" to begin with.  We sought to correct this dilemma by practicing being aware and mindful. This endows us with the ability to observe the conversations we have with ourselves (i.e. thoughts); but we can't stop there.  The spotlight needs to shift to entertain new perspectives, thereby illuminating potential solutions that can move us toward progress.  
As easy as this may sound, this presents us with a problem. Because in order to think differently, you must first need to know HOW TO THINK because "you don't know, what you don't know".  In other words, it would be impossible for us to adopt different perspectives if they remained outside our frame of reference.
For example, if you're intently focused on all the reasons that you CAN'T exercise, there is little anyone can do to convince you otherwise.  This is the kind of conversation wherein every attempt to offer a solution is met with a reason for why it wouldn't work.  This person's way of thinking has the spotlight focused on one thing (I can't do this, It's not possible; I have no time, etc.), and they have no intention of relinquishing the limelight any time soon.  
So to answer the question–"how do we think to promote change?" Let's take a look at a study where the probability of success was increased by the addition of a "?" (question mark).
In a study out of the University of Illinois, a group of participants were asked to solve a series of anagrams.  Prior to solving the anagrams, half of the  participants were told to ask themselves IF they could complete the task? And the other half was told to TELL themselves that they could complete the task.  
The results showed that the participants that ASKED themselves if they could complete the task solved significantly more of the anagrams.
In attempt to replicate these results, the researchers performed a follow up study in which they took three groups of participants and asked them to write 20 times one of the following prior to solving another set of anagrams:  "I will" (group 1), "Will I" (group 2), or "Will" (group 3).  
The results were the same.  The group that wrote "will I" 20 times before solving the anagrams completed TWICE as many than either of the two other groups.
Ask a Better Question, Get Better Results
It is a mantra that I have kept with me for years:
"Is there a better question?"  
I use this concept over and over to move myself from a position of helplessness to a position of empowerment.  When we speak to ourselves in the form questions, we bring all our resources to bear in an attempt to change our situation.  We open ourselves to the idea of possibility and by doing so, we weaken the beliefs that may have been holding us back.  This sounds simple enough, but there is one caveat because all questions are not created equal.
Whether or Not…Really?
A friend of mine who was dealing with relationship problems came to me one day.  She had been in a relationship for some time, but recently things have been "on the rocks".  Any of us that have been in a committed relationship, for a length of time, knows that it isn't all kittens and daffodils.   You will encounter ups and downs. There will be times when your patience is tested, and during certain points, this may occur more often than not.  She was going through one of these times.  Needless to say, she was in a bad way, and she was contemplating ending the relationship.  She informed me of her intention by asking, "should I leave him or not?"
This way of thinking is where most of us end up when it comes to decisions about our efforts to make change.  We leave ourselves with ultimatums rather than ACTUAL options.  For example, someone might say to themselves, "should I eat healthy so I can achieve my goals or should I just indulge in whatever I want, because you only live once?"
Wait!!  Where did EVERYTHING in between go??  Who says these concepts are mutually exclusive??
Wouldn't a better questions be, "HOW can I make food choices in a way that allows me to achieve my goals, AND gives me the freedom to indulge from time to time?
When we remove ourselves from having to make decisions that are binary in nature (whether or not, yes or no, true or false) we become solution focused.  We, in effect, move our "spotlight" to see if we can navigate our way to more promising perspectives.
Getting back to my friend. As the conversation continued, I could tell that she really loved the guy, but she felt that they just couldn't make it work. So I asked, "what if you HAD to make it work, or if you didn't want to make it work, I would KILL you and everything you hold dear in life?  How would you do it? Where would you start?"  Dark and a little twisted, I know, but it was well intended to solicit a response.  
When I "forced" her to find a way to make it work, she came up with all kinds of solutions!  She said that they could seek counseling; she could plan "getaways" that could allow them reconnect with each other; she could see if they could both find ways to communicate better, etc.
The point of this story is that–questions that only allow a binary response do not bode well for those of us seeking to make changes in our lives.  They limit our options, and make us ineffective at being resourceful and creating solutions.  
Check Yo'Self Before You Wreck Yo'Self
This has been a longer than intended post so, let's get a brief recap.
We have examined how we are of "two selves".  And we have learned that it's the way that we manage our "remembering self" that has a large effect on how we feel about ourselves and our life experience.  We've explained that the way our "remembering self" impacts us is through the use of language and how we communicate to ourselves. We also know that the conversations we have with ourselves can either impede our progress or usher us forward.  We've found that in our efforts to make progress, our "self conversations" should be inquisitive in nature, but with one caveat–the questions that we ask ourselves (to solicit action) should NOT promote a binary response because we have seen that questions with binary answers do little to aid us in creating solutions and developing new perspectives.
Ok…we have taken in a lot here. I suggest that we allow some time for what we have learned today to sink in. So in a post to come, we will take a look at strategies to help you shine your "spotlight" elsewhere and how that communicates to actionable efforts to help you make REAL LIFE changes.